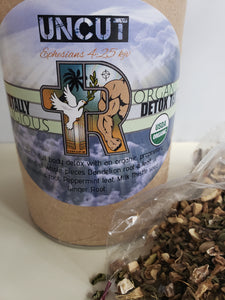 Totally religious is totally for your new life in Christ, maintaining a healthy body for the spirit to flow freely.   A Powerful, Organic collection of loose leaf and actual pieces of Ginger root, Dandelion root and leaves, Milk Thistle seeds, Burdock Root and Peppermint leaves for a full body detox.
AVAIABLE BY DONATION TO DOUBLE EAGLES MINISTRY.  SUGGESTED DONATION IS $50.  Order here.
                                               1 teaspoon is all it takes to get a daily detox and anti-oxidant infusion from this proprietary blend.  36 teaspoon in all.  Bring filtered cool water to a rolling boil.  Take off heat and let rest until bubbles stop to pour over tea in a diffuser. Steep for 3-5 minutes then remove diffuser.  May use more than once!.  This tea is naturally caffeine-free. 
Health benefits may include: (no medical advise is given here)
Ginger is know for its anti-inflammatory properties. And much else!
From WebMD; "Dandelion is used for loss of appetite, upset stomach, intestinal gas, gallstones, joint pain, muscle aches, eczema, and bruises. Dandelion is also used to increase urine production and as a laxative to increase bowel movements. It is also used as skin toner, blood tonic, and digestive tonic."
Milk Thistle is known as a liver detox and blood cleanser.
Burdock root is know for: It's a powerhouse of antioxidants. Burdock root has been shown to contain multiple types of powerful antioxidants, including quercetin, luteolin, and phenolic acids
 Peppermint is a refreshing addition that aids in digestion.  And adds a brightening aroma.