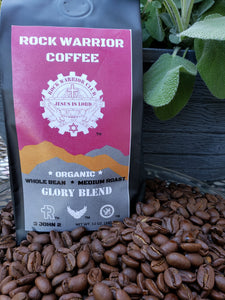 Organic , high altitude, medium roast, single source from farmers in Peru. Whole bean. fair trade. These Glory Roast coffee beans have the most magnificent aroma- and that says a lot coming from a TEA drinker! A little Java goes a long way...
AVAILABLE BY DONATION TO DOUBLE EAGLES MINISTRY.  SUGGESTED DONATION $25
Enjoy while listening to Sara LaCombe's original music "Coffee Talk", it  will elevate your cup of coffee to an transcending experience!